Rijkswaterstaat is introducing a new tool - the Vegetatielegger - to regulate trees and bushes near rivers in order to reduce the risk of flooding. Rijkswaterstaat asked iDelft whether it was possible to create an E-Participation platform which enables citizens to view their land on a Rijkswaterstaat map. By involving citizens at an early stage, problems can be avoided later on.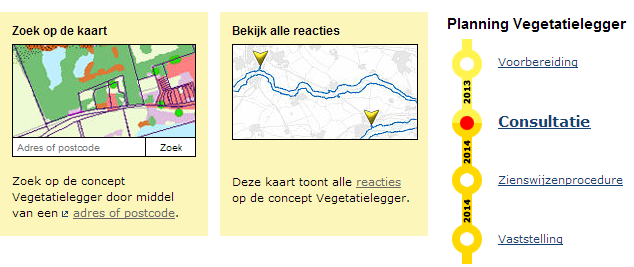 Through the E-Participation platform citizens can submit suggestions for improvement based on a digital map in the browser. Ease of use was an important requirement because digital maps are often complex. Citizens can respond directly via the map, but also through a public forum. Rijkswaterstaat needs to process and analyze all responses and it was therefore necessary to create a solid workflow solution as well.
iDelft developed the complete platform within two months. The project included the Open Source Content Management System Drupal, an in-house developed digital map module based on OpenLayers and a workflow system with webforms to process and manage the responses. The system is being hosted and supported by iDelft. Grontmij is providing the maps via a webservice.
The website has been certified for conformity to the Website Accessibility Guidelines which is a guarantee for user friendliness. During peak days, more than hundred people submitted a response and the system is very stable.
The e-Participation is finished now. More information on the Vegetatielegger can be found on the website of Rijkswaterstaat.